Aloha! Tucked away in Pittsburgh's quietly eclectic Squirrel Hill neighborhood, Hidden Harbor is a comfortable and inviting location, serving tropical drinks and Caribbean bites in the American tiki tradition, with a touch of modern inspiration.
We can't wait to serve you!
Best New Bar (Pittsburgh Magazine, 2016)
Best Bar & Best Cocktails (Pittsburgh Magazine Readers' Poll, 2017)
Best Cocktail List (Pittsburgh City Paper Readers' Poll, 2017, 2018, 2019)
Best Tiki Bars in America (Supercall, 2016)
Hours of Operation:
Tues-Thurs, 5 p.m. - midnight (kitchen 'til 10 p.m.)
Fri-Sat, 5 p.m. - 1 a.m. (kitchen 'til 10 p.m.)
Closed Sun-Mon
Reservations: call (412) 422-5040
Parties of 8+, special events & other inquiries: e-mail adam@hiddenharborpgh.com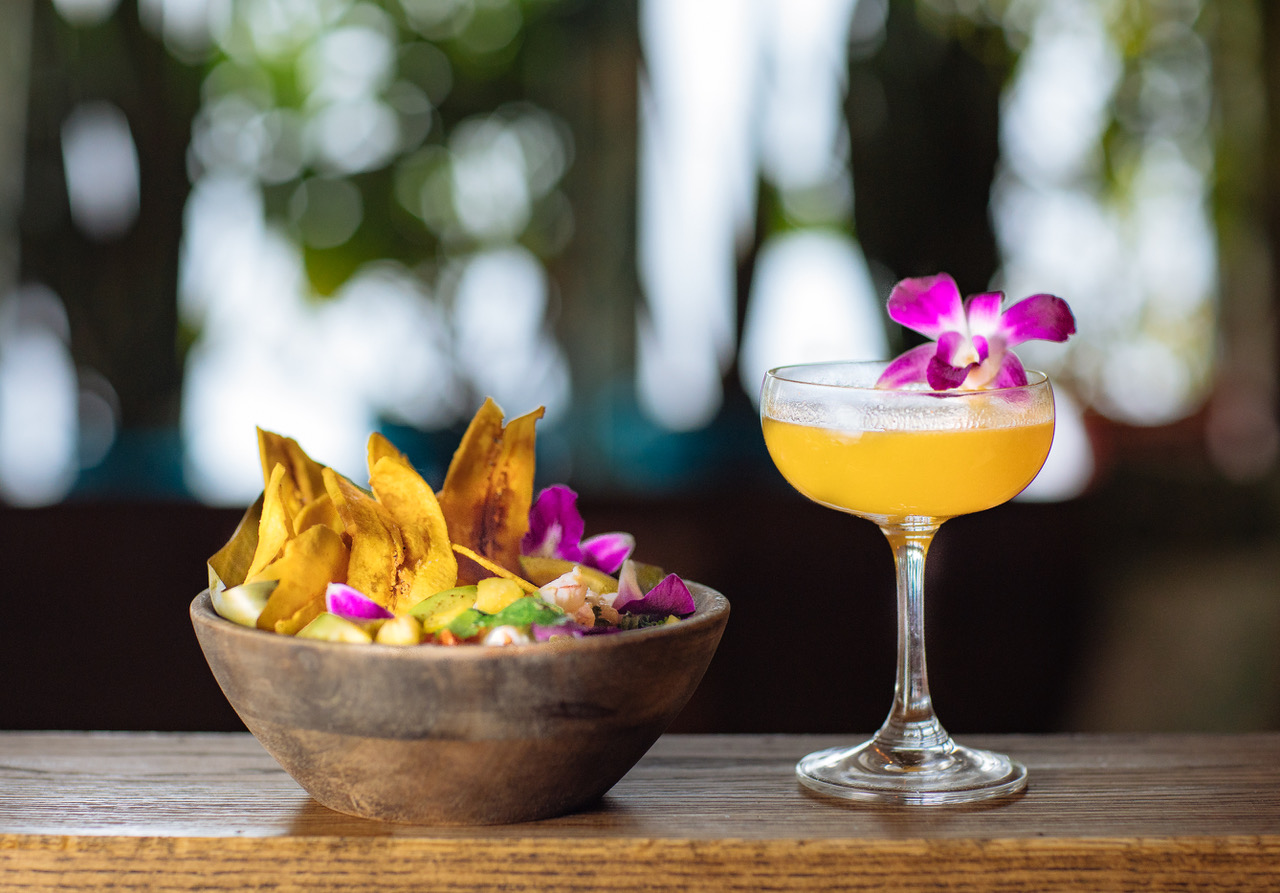 HALF-OFF HAPPY HOUR
EVERY TUESDAY THROUGH FRIDAY FROM 5 - 6 P.M., EIGHT TROPICAL CLASSICS, ALL HALF-OFF REGULAR PRICES
DON'S SPECIAL DAIQUIRI
JASPER'S JAMAICAN
CUBA LIBRE
DARK & STORMY
EASTERN SOUR
SATURN
PAINKILLER
TRADER VIC'S MAI TAI
TUESDAYS: TIKI TIME MACHINE
EVERY TUESDAY, A SPECIAL MENU OF TEN CLASSIC TIKI DRINKS, ORGANIZED BY YEAR OF CREATION. TAKE A TRIP THROUGH TIKI'S TASTY HISTORY WITH US, AND CLAIM YOUR REWARD ON COMPLETION
DAQ SHACK THURSDAYS
EVERY THURSDAY FOR THE DURATION OF THE SUMMER, A CELEBRATION OF THE ELEGANT, TIMELESS DAIQUIRI, WITH A SPECIAL MENU OF DAIQUIRI VARIATIONS AND A DEEPLY DISCOUNTED FEATURED CLASSIC DAIQUIRI
THE DEAD PARROTS SOCIETY
WE'VE ASSEMBLED A FORMIDABLE COLLECTION OF OVER 330 RUMS. FOR A GUIDED TOUR THROUGH 20 OF THE FINEST, GRAB A RUM PASSPORT AND BEGIN YOUR JOURNEY. FINISH THEM ALL AND WE'LL WELCOME YOU INTO OUR RUM CLUB: THE DEAD PARROTS SOCIETY. LEVEL 3 NOW UNDERWAY!
The 1st Annual Hidden Harbor + Independent Luau!
ALOHA!
Hidden Harbor and the Independent Brewing Company are excited to team up to bring you the first annual Shady Avenue Luau on Sunday, August 25th, featuring a ticketed pig roast and paella cookout, Hidden Harbor cocktails, the Indie's famous draft list, and tropical vibes from 3 to 10 p.m.
Executive Chef Jamilka Borges will be joined in the Independent's kitchen by Chef Tim Eelman (Marla, San Francisco), where they will roast pigs Puerto-Rican style and grill up tropical paella, with sauces and fixins galore. Both bars will open up for the afternoon and early evening, with Hidden Harbor serving a limited menu of Luau cocktails, and the Independent pouring a draft list of tropical inspired beers (as well as a hefty dose of crushable Sunday pilsner).
Food will be sold by the (large) plate, with meat and vegetarian options available. Due to the nature of a pig roast, food is likely to sell out. We recommend that you purchase an advanced ticket for your Luau plate at Hidden Harbor's online shop here. Advanced tickets are available for $25 per person. Day-of sales, if available, will cost $30. Food will be served from a counter at the Independent, and diners will be able to take their dinners to either Hidden Harbor or the Independent where the dining rooms will be ready and waiting.
Both bars will be open to the general public from 3 to 10 p.m. Hawaiian music, surf music, and a healthy touch of mid-century jazz will be playing throughout both restaurants, and we look forward to spreading the spirit of Aloha on Shady Avenue on a summer Sunday afternoon.
Event FAQ:
Do I need a ticket to eat food? We are selling tickets for food in advance, as the pig roast is likely to sell out. Those tickets can be purchased for $25 per person at HH's shop here. In the event that food tickets do not sell out online, they will be available for $30 per person at the door.
Do I need a ticket to buy alcohol? No. The bars at both Hidden Harbor and the Independent Brewing Company will be open to the public from 3-10 p.m., albeit with a more limited menu than usual.
Will there be a vegetarian option available? Yes! A grilled avocado and veggies option is available, and can be selected as part of the food ticket purchase process.
What time is the event? Food will be served from 3-8 p.m. The bars will be open until 10 p.m.
Are minors allowed? Yes, however only with a parent or guardian over the age of 25. No alcohol can be purchased without a valid, government photo ID showing age over 21.